Release Radar:
Ridwell
A lack of service and transparency is common when it comes to recycling. Single-stream recycling efforts in many cities come with a slew of problems, resulting in most recycled goods (25% by some sources) ending up in landfills. There's also a lack of awareness among many consumers about what can be recycled and how, which leads to problems including warehouse fires.
Enter Ridwell: wasting less, made easy
Ridwell started in 2018 with the vision of making it simple to get rid of stuff responsibly. What began with four founders (including adorable change-maker Owen) doing door-to-door pickup service to 60 homes in Seattle has grown to hundreds of employees servicing 6 major cities in the US.
Fast forward to 2022, Ridwell now collects all kinds of unwanted items such as used batteries, bicycle gear, clothing – you name it. By providing a seamless pickup service with an a-la-carte system for members and a series of behind-the-screens local partnerships for waste sorting, cleaning and auditing, Ridwell helps recycle and reuse 97% of the materials that they pick up from homes.
Reduce, Reuse, Recycle on-the-go!
About six months ago, we were tasked with the challenge of building an MVP iOS app that allows members to schedule their pickups on the go! Using SwiftUI and our new open-source SwiftUI component library NiceComponents, we developed a clean (pun intended) native app that focuses on Ridwell's three core flows:
Allowing members to schedule and edit their future pickups — adding their used items to their next pickup and being notified about when their driver is en route.
Providing educational content of the stuff members can recycle. (Leia at Steamclock had no idea what the heck clamshell containers were. Now she knows!)
Demonstrating the impact members have by choosing Ridwell as their recycling partner. Did you know Ridwell + their members saved around 10 million lbs from waste streams to date?!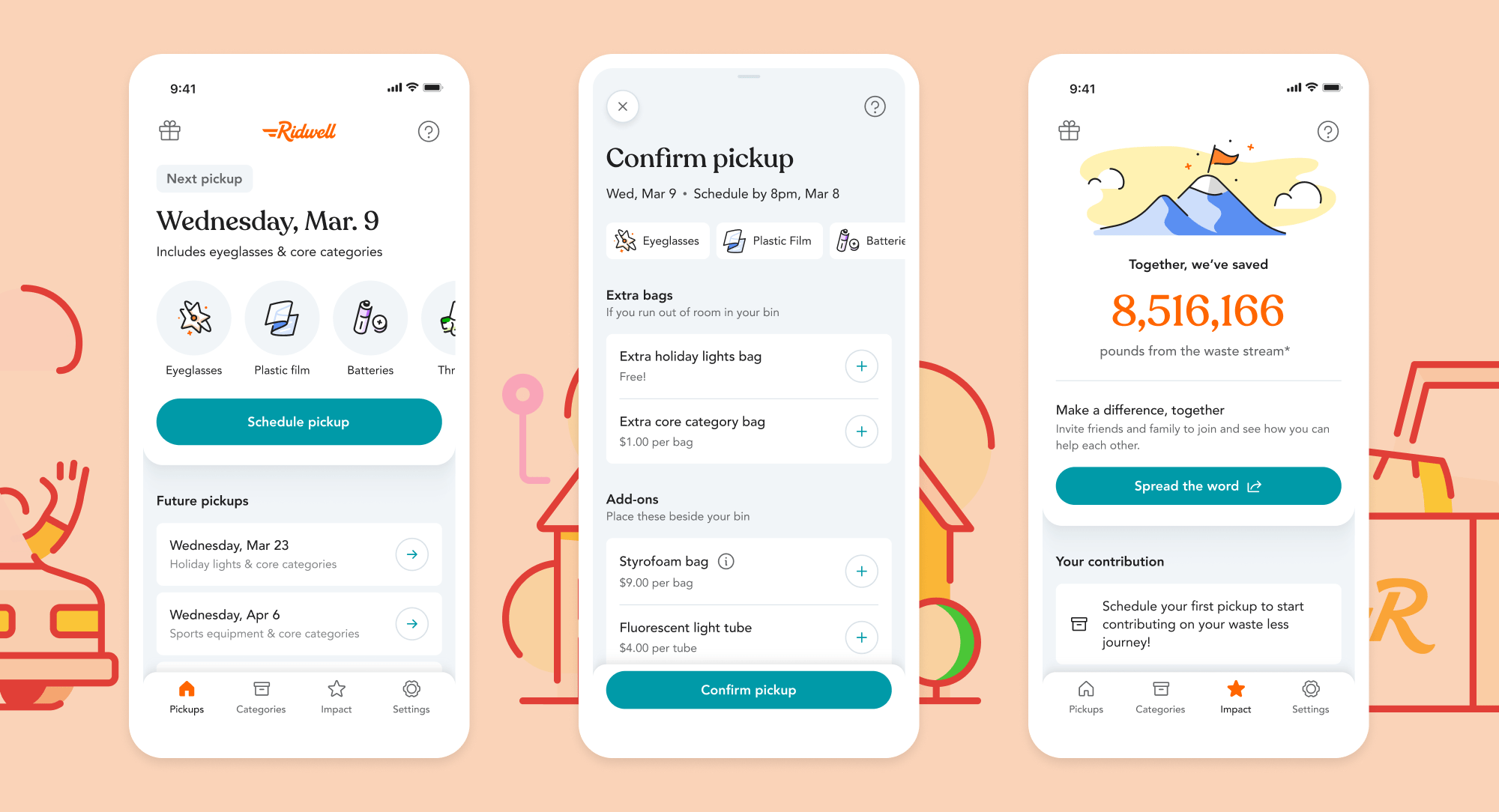 Sprinkling in some love in the form of Lottie animations, and putting Ridwell's strong commitment to making the world a less wasteful place at the centre of it all, we're excited to see Ridwell continue to grow — especially now with a mobile app under their belt!
Stay tuned for a more in-depth case study. While Ridwell subscriptions are only available in certain US cities as of now, anybody can check out their website for more green tips. If you are in one of Ridwell's service areas, download Ridwell on the App Store today!
Previous Post
Development • Jun 10th, 2022
More on the theme of Releases
Releases • Aug 28th, 2023
Releases • Jan 30th, 2023
Releases • Nov 18th, 2022
Interested in future posts or announcements? Subscribe to our feed.